Robert Dallas Dare
Our previous historian, a man who did the impossible!
Robert Dallas Dare decided that we had so many names in our Dare tree that we needed a computer to manage it. He was right. But computers in his day did not have the memory, or the power to accomplish the task easily! He was constantly upgrading, upgrading, and upgrading his hardware, and finally managed to publish 6 huge volumes of family trees using the computers of his day! Today we rest on his shoulders, reaping the rewards of a huge amount of data compiled and entered by him! With the data from researchers like our previous historians: Charles E. Sheppard and Edward Everett Grosscup II, with the constant diligence of our current researcher, David B. DeVault, and from research and e-mail communication performed by Bob Dare, we now have a world-wide network of linked Dare cousins! Here is his picture and his obituary, to help us remember him, and to help us appreciate the monumental work that he did for our family: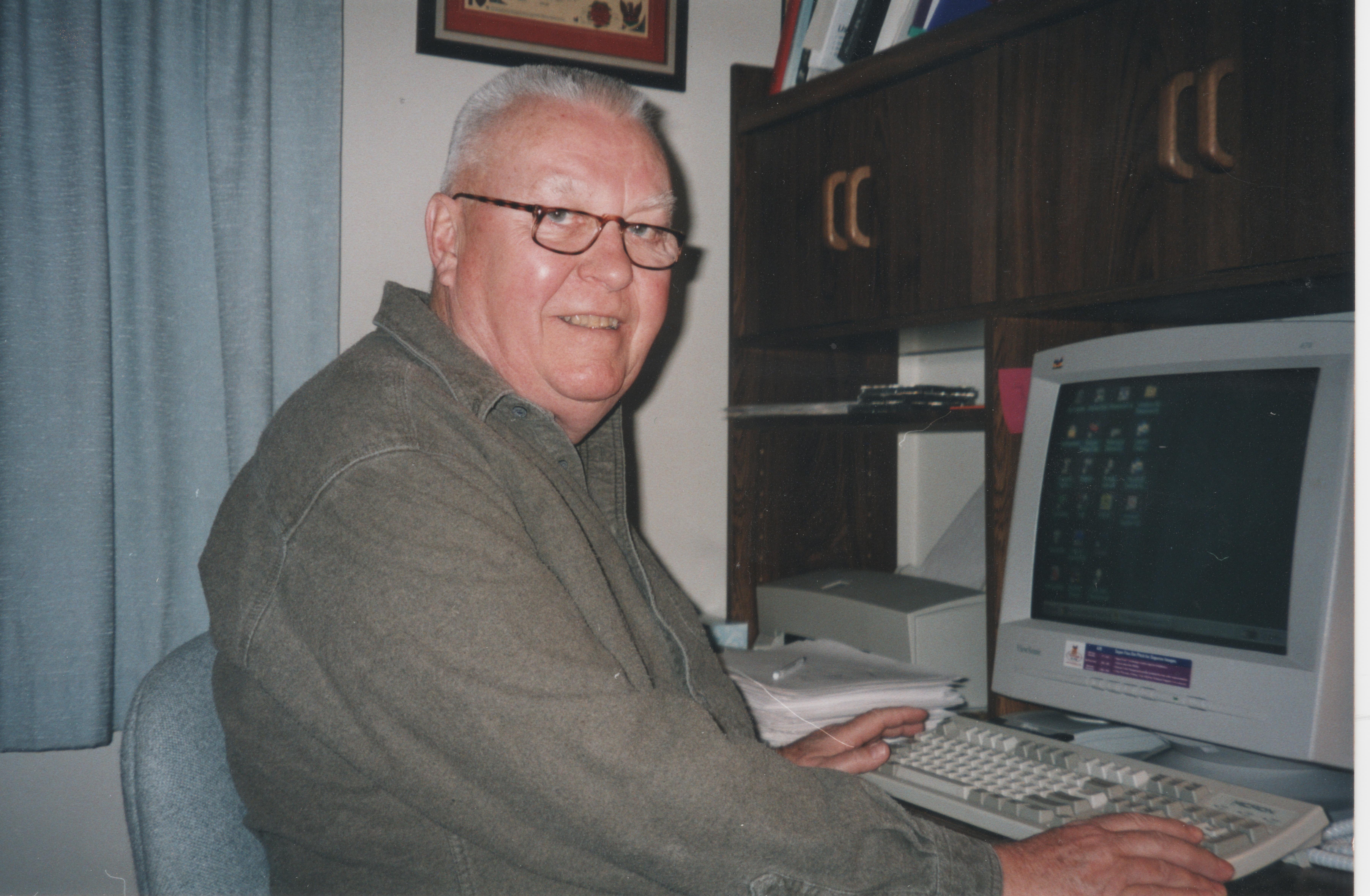 Obituary:
A lifelong resident of Washington Twp, NJ passed away on Sunday, November 11, 2001 at home. Robert had served his country in the Korean War from 1951-1953 in the United State Marine Corps. He worked for IBM for thirty-two years and after retiring, started Briar-Pine Farms - a wholesale nursery. He was active in the Dare Family Association, Bunker Hill Presbyterian Church and the Glassboro High School 1947 Reunion Committee. Mr. Dare had served as an Elder at the Bunker Hill Presbyterian Church in Washington Township, NJ. He was an avid hunter and genealogist. He will be remembered for his love of family and his service to others. He is survived by his loving wife of over fifty years, Dorothy J. (nee MacFadden) Dare, their four children and families; Stephen A. and Rosemary Dare of Franklin, MA, Judith (Dare) and Fredrick Newberg of New Britain, CT, Douglas S. and Susan Dare of Davis Mills, NJ and Scott R. and Elizabeth Dare of Mullica Hill, NJ. Also survived by their grandchildren Matthew Dare, Anna and Kelsey Newberg, Madelyn and Clara Dare and Jonathan and Sarah Dare. He is also survived by his only brother and friend Alvin W. Dare and his wife Carol. There are eight nieces and nephews and their families. The Funeral Service was held on Friday, November 16, 2001 at 10 AM in the Bunker Hill Presbyterian Church, 330 Greentree Road, Sewell, NJ 08080. Interment Bethel Cemetery, Hurffville, NJ.
Publication date: 11/13/01